These are just some of the situations in which we can help you.
You want to buy a home in Japan, but need help with the official procedures, contracts, and obtaining a home loan.
You want to start a business in Japan, but are not sure about the official procedures for setting up a company, obtaining permits, etc.
Your Japanese spouse has passed away, and you would like to go through the inheritance procedures.
You are a foreign national and would like to know how your property will be taken over when you pass away. you would also like to take measures to ensure a smooth succession.
You want to plan for eventualities in Japan – even the unpleasant ones, such as who will manage your assets if you become senile.
You are leaving Japan but retaining some assets in the country, and need advice regarding asset management.
You want to renew or change your visa or apply for permanent residence.
At Kobe Legal Partners, we offer a range of legal services to help make life in Japan easier for foreign nationals. With more than 20 years' experience, we know all the bureaucratic ins and outs regarding wills and inheritance, asset management, real estate, incorporation, and obtaining official permits. We take care of the red tape so you don't have to.
First consultation is free – e-mail us now to discuss your needs
Our Services
About Kobe Legal Partners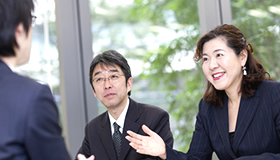 Kobe Legal Partners is a long-standing firm of shiho-shoshi and gyosei-shoshi lawyers helping make life in Japan easier for the local foreign community with a range of services pertaining to real estate, company incorporation, visas, wills and inheritance, and asset management.