International Marriage
I am very happy and relieved to say that I got happily married to my Japanese girl friend in Japan. Thanks to Sachiko ( Kobe Legal Partners ). Kobe Legal Partners helped me right from the beginning. They told me the right procedure to get married in Japan. As I am not from Japan, being a foreigner, it's difficult to get the work done. If you are not a native Japanese speaker, Kobe Legal Partners have a great support for foreigner who can't speak Japanese. Sachiko is fluent in English and explains about all the procedures slowly and carefully. She handled all my procedures right from translating my documents in Japanese and telling me what to do next to talking and confirming a lot of things regarding marriage with the ward office.

Thanks,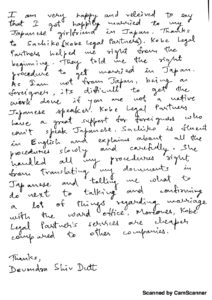 Setting up a company
Are you looking for incorporating your company or buying or selling real estate in Japan? Please, look no further, Sachiko Inoue of Kobe Legal Partners is there for your business needs. The mixture of her expertise in drawing up official documentation, plus her multicultural linguistic abilities ranks her as one of the best in Japan.
I consider myself very blessed to have had the opportunity of experiencing her first-class services. A rapid turnaround and excellent service assignment was completed within a day. I would strongly recommend Sachiko Inoue of Kobe Legal Partners services to any person or company that requires incorporating in Japan. What an awesome and amazing service Kobe Legal Partners provides!!
Sincerely,
Peter.
Zebedee Enterprise LLC, Japan.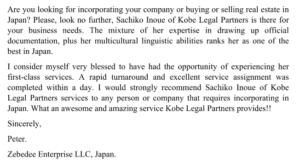 Register a company and apply for the business management visa
I used KOBE Legal Partner services to register a company in Kobe and apply for the necessary Business Management Visa.
At the time, one of my main requirements when searching for a 司法書士 to work with, was the ability to communicate in both English and in Japanese. It was important that I completely understood the entire company registration and visa application process.
This was where Saeki and his team at KOBELP excelled in. They were able to clearly convey in detail, all the steps and task necessary to successfully complete the process. Professional and methodical in their approach, they ensured all items relating with my application were thoroughly considered and addressed.
If you are in search of a legal partner in Kobe, I highly recommend you visit KOBELP and consider if their approach matches your requirements.
August 6, 2017